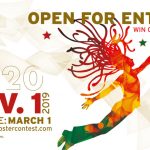 Deadline: March 1, 2020
Applications for the International Reggae Poster Contest 2020 are now open. This year's theme is "Reggae Music: Messages from Jamaica to the World".
In the world of design and the arts, there are many poster competitions. Some focus on music, such as jazz and rock; and others on social awareness. But there is only one competition worldwide on reggae music. One of the reasons this music has spread across the globe is because reggae speaks to our heart and our mind about a wide range of social and political issues.
Continue reading International Reggae Poster Contest 2020 for Graphics Designers and Artists at Opportunity Desk.